History
The History of OSU Homecoming
Ohio State is celebrating 106 years of Homecoming this year! The University has a rich tradition of Homecoming activities. Alumni Day began as early as the 1880s. Homecoming officially began as an idea of OSU professor and Alumni George Rightmire in 1912. The first Homecoming was called "Ohio State Day" as an event prior to a football game. At first, Homecoming unofficially began as commencement programs set aside for Alumni gatherings.
Students began the tradition of decorating houses and dorms for the first Homecoming in 1912. The Homecoming Pep Rally tradition was added to Homecoming Week in 1918. In 1920, a Homecoming Dance was added to the celebration. Floats were organized for the Homecoming Parade on and off as early as 1920. The Homecoming Parade has been an annual tradition since 1965.
Homecoming Court began with only women competing for queen. The first woman given the title of Homecoming Queen was Helen McDermott in 1923. The first Homecoming King was in Alex Lambrinides in 1976. Maudine Ormsby, cow queen of 1926, was a candidate from the College of Agriculture. Marlene Owens, Jesse and Ruth Owen's daughter, became OSU's first African American Homecoming Queen.
2011 was the inaugural year for the participation of the Regional campuses of Ohio State in the Homecoming Celebration. To start a new tradition and welcome alumni home, Homecoming and Alumni Reunion Weekend has combined into one campus-wide celebration.
The 2018 Homecoming is themed "Return of the Buckeyes," and we are so excited for new memories to be made!
2009 Homecoming Parade 2004 Homecoming Parade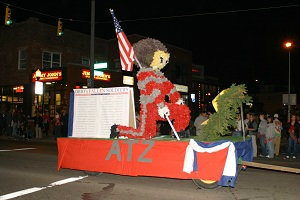 1998 Homecoming Parade 1985 Homecoming Parade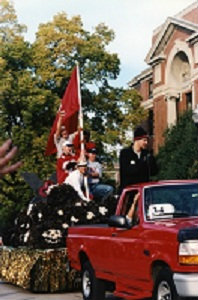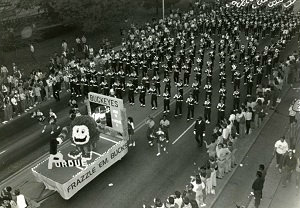 1971 Homecoming Parade 1970 Homecoming Parade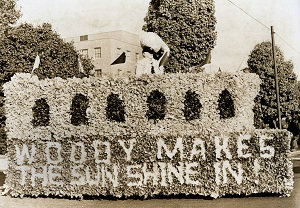 1930 Homecoming Parade 1926 Homecoming Queen Maudine Ormsby